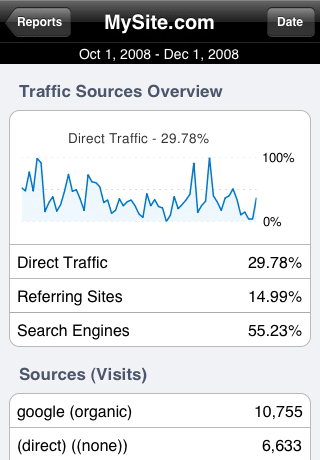 We've developed a new iPhone app that I think you and all SEOs with iPhones will love. The new Analytics App for the iPhone and iPod Touch gives you anywhere access to your Google Analytics data. I had a lunch meeting the other day with a buddy of mine that I'm helping do some PPC and SEO for his site, and using Analytics App we could talk over lunch about keywords, PPC campaigns, and other sources of traffic. I think you'll find it handy in many ways too!
With more than 29 reports available, as well as unlimited custom reports, all your analytics data is just a button away. Change the date to see any date range, and there's an easy Today report that any Analytics addict will love. Why Google doesn't have a button for that is beyond me…
You can download Analytics App for $5.99 from the iTunes AppStore.
For any subscribers to the SoloSEO.com tools with an iPhone or iPod Touch, email us with your username (info at soloseo dot com) and we'll give you a free promo code for Analytics App!